<svg class="divider-stroke" xmlns="http://www.w3.org/2000/svg" viewBox="0 0 184 25"><path d="M100.3 11.7c-1.5.7-3.4.8-5.1 1.3-1.5-.3-3.1-.6-4.8-.6-.4 0-.9.3-1.3.7.5.1-4.5.3-5.5 1-2-.1-3.6-.4-5.2-.7l-9.8 1.5c-3.3.2-6.5.2-9.6.7 1 .2.1.5.1.5l-9.3.9c-.2 0-.9.1-1.6.1 1.3.6-1.5 1-2.2 1.1-.2 0-.6-.1-.1-.3-.2-.2-.6-.1-1.2-.1l1.7-.5c-2.1.1-3.7.4-5.4.6-.3 0-.3.7 0 .6 1.3-.2 2.6-.1 3.8-.4.3-.1.4.4.1.4-.5.1-2 .2-2.6.3.7 1 1.7-.4 2.4.6 1.2-.3 2.5-.2 3.9-.1-3 .3-5.6 1.3-8.5 1.7-.5.1-2 .7-2.5.7-2-.2-4.1.4-5.8.7 1.2-.5-.4-.5-.5-.3-.1-.9.2-1.7.9-1.9 1.5-.5 3.2-.5 5-.7l.6-1c-1.5.2-3.1.4-4.2 1-.6.3-.2-1-.7-.7-.9.6-2.1.8-3.5.6.6-.7 1.7-.4 2.4-.6 1.1-.4 2.4-.6 3.9-.4-.3-.4-.9-.6-1.3-.5-3.2.7-6.7.8-10.6.8.2.4.9.2 1.4.2 0 .4-.7.2-.9.3.3.5-1.2.5-1.8.6h-1.3c0 .4.6.1.7.4-.7.5-1.7.4-2.7.5.1-.2.3-.9-.2-.8-.4 0-1 .2-1.4-.2 1.2-.5 3.1-.2 4.2-.2.3-.7-1.3-.5-2-.5-5.6 0-10.7.9-15.3 2.2-.5-.6.5-.4.8-.4.9-.1.5-1.1 1.2-1.3.6-.2 1.2 0 1.8-.2l.4.4c4.7-.7 9-1.7 14.3-1.7 1.4 0 3-.2 4.6-.7-3.5-.2-6.8-.1-9.9.8-.9-.2-2.8-.3-4.2.1 0-.4.2-.7.6-1-2 0-4.1.3-5.8.8l1.1.4-2.3.3c0-.4.7-.2.9-.4-.4-.3-1.1-.2-1.4.4-.1.2-.3.7-.5.3.7-.7-.4-.6-.7-.4-.1-.1-.4.7-.8.4-.4-.2-.7.2-1.1.2.1-.6.1-1.3-.5-1.6.3.7 0 1.3 0 1.9-.3-.5-.6.6-.8.3-.6-.6-.9-1.5-1.1-2.2.6-.1.6-.9 1.1-1.2 0 .5-.1 1 .3 1.2 0-.9.4-1.6.8-1.8 1.3-.8 1.8-3.1 1.1-4.9-.4.4-.7-.2-.7-.6l7.6-2.1c-1.3-.3.6-.3 1-.5 2.6-1.1 5.6-1.4 8.6-1.7C49.2 3.2 77.7 1.5 107.5.6c10.5.3 22.3.5 32.5-.6 4.9.1 10.1-.1 14.2 1 3.8-.2 7.3-.7 11.1-.4-1.2.4-1.2 1.3-2 1.9.9.4 2 0 2.8.3-.4.3.3.7.6.7 1.2 0-.2.5-.1.7.7.2-1.2.1-1.8 0 .2.8 1.3.5 1.6.5l3.9.3c.8.1-.1.6-.3.6-2.4.5-5 .5-7.2 1.1 0 .4.7.2.9.4-.6.5-1.3.7-2 .8-1.9.3-3.9.1-5.5.1.1-.6 1.2-.3 1.8-.3-.6-.7-1.5-.6-2.1-1 .2-.3.5-.6.8-.7-.2-.5-.8-.2-.9-.6l.7-.1c-.3-.3-.7-.5-1.1-.7.9 0 .1-.6-.1-.7-.3-.2-.6.1-.9.3.6.4-.3.3-.4.3.8.8-.5.7-.9.5.2.7 1.2 0 1.4.9-.2.2-.6.3-.3.6-1.4.7-2.9 1.3-4.9.9.1.4.7.2.9.4-.9 1-2.4.9-3.3 0v1.1c-.4-.1-.6-.7-1-.6-.7.1-1.6.4-2.4.4.5.5 1.5.7 2.2.5.6-.2 1.5-.3 2.2.3-1.3 0-2.2.2-2.9.4-.7.2-1.5-.2-2.1 0v.9c-.2-.3-.6-1-1-.5.6.9-.6.7-.6.7-1.4.1-3.2-.1-4.6.3.2.3.9.3 1.3.5-2.9.3-5.6.4-8.3 1 .1 0-.1.7-.4-.1-.9-.1-2.2.2-3.2.2-.3 0-.4-.6-.5-.7-.5-.2-2-.2-2.8-.2l1.5-.4c-1.4-.1-2.5.1-3.6.2l1 .5c-6.5-1-13.8-.8-20.5-.6h-.9zM174.4 5.5c-.5 0-1.8-.1-2.3-.2 1.4-.4 2.9-.9 4.7-.9-.8-.2-2.3-.1-3.7-.1 1.6-.8 3.2-.3 4.4-1 .3-.2.7-.9 1.3-.9 1.5 0 3.3.5 4.3.7-.2.6-.7.8-1.1 1l-1.4.3c0 .5.4.4.6.3.7-.1 1.4-.4 2.3-.4-.9.8-2.1.7-3.1.9-1.8.2-3.5.3-5.2.5l-.8-.2z"/><path d="M143.8 10.6c1.9-.3 4.1-.8 6.3-.4-.5.1-.1.4.1.3.7-.1 1.2-.8 1.6-.8 1.8 0 3.8-.2 5.3.1.4.1.2.8 0 .9h-.7c0 1.1-1.5.8-2.2.9h-4.5c-.2-.5.2-.4.4-.5.3-.1.7-.2.9-.5-1.9.3-3.7.6-5.6.8h-1.1l-.5-.8zM23.4 23l-.4-.5c-.5-.1-1.2.3-1.6.1-.6-.2-1-.9-.7-1.5.2-.5 1-.7 1.4-.7l3.7-.4c-1.4.5-2.8 1-4.3 1.2 1.1.1 2.7 0 3.4-.3.5-.2 1.4-.2 1.8.2-.7.2-1.5-.1-1.8.7.7 0 1.7-.1 2.2.2-1.3.3-2.6.5-3.7 1zM105.7 13.9c.2-.6 2.6-.3 3.4-.4.3 0 1.1.2 1.4.2 0 .4-.4.6-.7.6-1.2.1-2.4.1-3.5-.2l-.6-.2zM47.8 18.7c-.2.1-.4-.2 0-.4 1.5-.7 3-1.3 5-.6-.3.2-1.2.1-1.9.4.4.6-1.1.4-1.7.4-.2-.1-1 0-1.4.2zM85.2 14.3c-1.5.1 1.9-.3 2.6 0 .4.1.9.3 1.1.6-1.1.2-2.9.5-4.1 0 .3-.3.4-.4.4-.6zM151.4 12.3c-.7 0 .9-.3 1.2-.3h3.5c-1.3.5-3.1.2-4.7.3zM23.4 23c-.9.6-2.2.5-3.5.9.3-.8 1.5-.7 2.2-.9h1.3zM39 21.8c-.3-.4.1-.5.2-.5.7.2 1.1.2 1.6.3 0 .4-.4.2-.7.2v.7c-.5-.2-.8-.3-1.1-.7zM94.3 14.5c1-.2 2.2-.2 3 .2-1 .2-2.2.3-3-.2zM32.1 20.8c1.2-.3 2.8-.3 4.1-.5-1.5-.2-2.8 0-4.2.2-.2.1-.3.4.1.3zM38.2 19.2c.3 0 .5.2.6.2.8-.1 2-.2 2.8-.5-.5 0-1.4.1-1.8 0-.4-.1-2.7.4-1.6.3zM28.9 22.2h-1.4c.3-.7 1.6-.4 2.5-.4-.2.4-.7.4-1.1.4zM16.8 21.5c.5-.3 1.4-.4 2.2-.3-.4.2-1.2.7-1.8.7l-.4-.4zM121.5 17.5c-1.2-.2 1.7-.1 2.4-.1-.7.3-2 .1-2.4.1zM42.7 21.3c-.4.2-.4-.3-.2-.4.6-.3 1.2-.2 1.8-.2-.3.2-1.1.3-1.6.6zM.2 18.7L0 16.8c.5 0 .7.7.6 1.2-.1.2 0 .7-.4.7zM153.2 9.4c-.2.1-1.1 0-1.5 0 .5-.3 1.5-.4 2.2-.5l-.7.5zM35 16.4V16c-.6 0-1.4.1-1.7.4H35zM28.6 19.8c-.4.1-.7.2-1 .2.4-.4 1-.3 1.5-.7.7.6-.4.5-.5.5zM9.1 20.7c-.4.2-.7-.3-.2-.4.4-.1.9-.3 1.4-.3-.3.3-.7.5-1.2.7zM34.8 23.2c-.3.1-.5-.3 0-.5.3-.1 1 0 1.4 0-.2.4-.9.3-1.4.5zM30.1 21l-1.1.1c.4-.6 1.2-.5 1.9-.4l-.8.3zM34.6 21.1c-.4.1-.9.1-1.1.5.8-.2 1.7-.1 2.3-.5h-1.2zM104.8 10.8v-.2c-.7 0-1.7-.1-2.2.2h2.2zM100.3 11.7c-.7-.3-1.4-.3-2.2-.3.6.4 1.5.3 2.2.3zM56.3 20h-2c.4-.3 1.3-.2 2-.2v.2zM23.8 18.9l-.2-.4c-.4.4-1.1 0-1.3.4h1.5zM14.4 20.6l-.6.1c.3-.4.9-.6 1.5-.4-.1.3-.7.2-.9.3zM3.3 14.6c-.2 0-.7.2-.6-.2.1-.6.5-.6.6 0v.2zM29.6 24.2c-.3.2-.9-.2-.2-.4h.9c.1.4-.4.2-.7.4z"/></svg>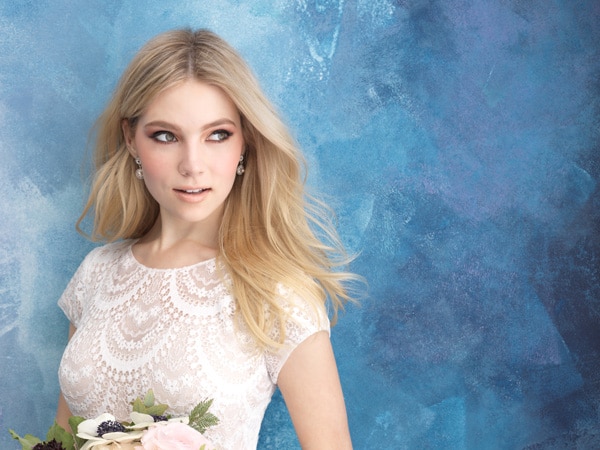 About Allure Bridals
Whether your style is classic and traditional or bold and dramatic — it all starts with how your gown makes you feel. And nothing feels like an Allure.
Affordable Excellence
Allure Modest Collection is for the bride who prefers an elegant, more modest bridal gown. Wearing a modest wedding gown from Allure means you don't sacrifice fashion. The designers from Allure Modest ensures that each modest wedding gown style is beautifully and fashionably made lush fabrics, with raised necklines, cap sleeves, delicate sparkling crystal beading, their signature buttons, and detailed embroidery.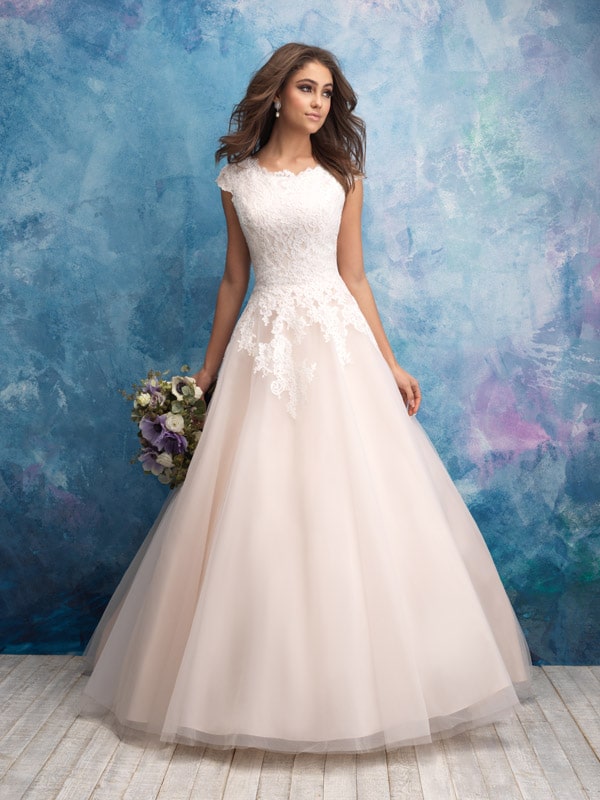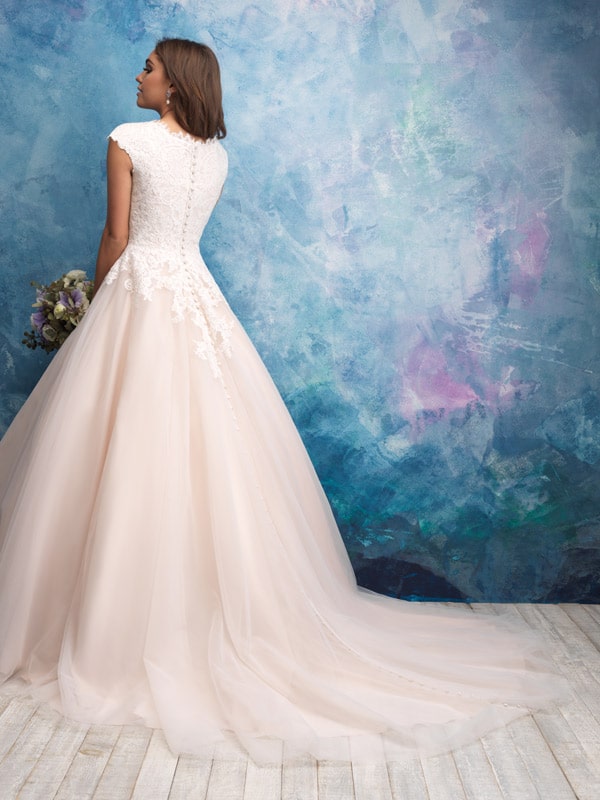 Visit Allure Modest website
Want to discuss your wedding?