Voyagé Collection by Morilee
<svg class="divider-stroke" xmlns="http://www.w3.org/2000/svg" viewBox="0 0 184 25"><path d="M100.3 11.7c-1.5.7-3.4.8-5.1 1.3-1.5-.3-3.1-.6-4.8-.6-.4 0-.9.3-1.3.7.5.1-4.5.3-5.5 1-2-.1-3.6-.4-5.2-.7l-9.8 1.5c-3.3.2-6.5.2-9.6.7 1 .2.1.5.1.5l-9.3.9c-.2 0-.9.1-1.6.1 1.3.6-1.5 1-2.2 1.1-.2 0-.6-.1-.1-.3-.2-.2-.6-.1-1.2-.1l1.7-.5c-2.1.1-3.7.4-5.4.6-.3 0-.3.7 0 .6 1.3-.2 2.6-.1 3.8-.4.3-.1.4.4.1.4-.5.1-2 .2-2.6.3.7 1 1.7-.4 2.4.6 1.2-.3 2.5-.2 3.9-.1-3 .3-5.6 1.3-8.5 1.7-.5.1-2 .7-2.5.7-2-.2-4.1.4-5.8.7 1.2-.5-.4-.5-.5-.3-.1-.9.2-1.7.9-1.9 1.5-.5 3.2-.5 5-.7l.6-1c-1.5.2-3.1.4-4.2 1-.6.3-.2-1-.7-.7-.9.6-2.1.8-3.5.6.6-.7 1.7-.4 2.4-.6 1.1-.4 2.4-.6 3.9-.4-.3-.4-.9-.6-1.3-.5-3.2.7-6.7.8-10.6.8.2.4.9.2 1.4.2 0 .4-.7.2-.9.3.3.5-1.2.5-1.8.6h-1.3c0 .4.6.1.7.4-.7.5-1.7.4-2.7.5.1-.2.3-.9-.2-.8-.4 0-1 .2-1.4-.2 1.2-.5 3.1-.2 4.2-.2.3-.7-1.3-.5-2-.5-5.6 0-10.7.9-15.3 2.2-.5-.6.5-.4.8-.4.9-.1.5-1.1 1.2-1.3.6-.2 1.2 0 1.8-.2l.4.4c4.7-.7 9-1.7 14.3-1.7 1.4 0 3-.2 4.6-.7-3.5-.2-6.8-.1-9.9.8-.9-.2-2.8-.3-4.2.1 0-.4.2-.7.6-1-2 0-4.1.3-5.8.8l1.1.4-2.3.3c0-.4.7-.2.9-.4-.4-.3-1.1-.2-1.4.4-.1.2-.3.7-.5.3.7-.7-.4-.6-.7-.4-.1-.1-.4.7-.8.4-.4-.2-.7.2-1.1.2.1-.6.1-1.3-.5-1.6.3.7 0 1.3 0 1.9-.3-.5-.6.6-.8.3-.6-.6-.9-1.5-1.1-2.2.6-.1.6-.9 1.1-1.2 0 .5-.1 1 .3 1.2 0-.9.4-1.6.8-1.8 1.3-.8 1.8-3.1 1.1-4.9-.4.4-.7-.2-.7-.6l7.6-2.1c-1.3-.3.6-.3 1-.5 2.6-1.1 5.6-1.4 8.6-1.7C49.2 3.2 77.7 1.5 107.5.6c10.5.3 22.3.5 32.5-.6 4.9.1 10.1-.1 14.2 1 3.8-.2 7.3-.7 11.1-.4-1.2.4-1.2 1.3-2 1.9.9.4 2 0 2.8.3-.4.3.3.7.6.7 1.2 0-.2.5-.1.7.7.2-1.2.1-1.8 0 .2.8 1.3.5 1.6.5l3.9.3c.8.1-.1.6-.3.6-2.4.5-5 .5-7.2 1.1 0 .4.7.2.9.4-.6.5-1.3.7-2 .8-1.9.3-3.9.1-5.5.1.1-.6 1.2-.3 1.8-.3-.6-.7-1.5-.6-2.1-1 .2-.3.5-.6.8-.7-.2-.5-.8-.2-.9-.6l.7-.1c-.3-.3-.7-.5-1.1-.7.9 0 .1-.6-.1-.7-.3-.2-.6.1-.9.3.6.4-.3.3-.4.3.8.8-.5.7-.9.5.2.7 1.2 0 1.4.9-.2.2-.6.3-.3.6-1.4.7-2.9 1.3-4.9.9.1.4.7.2.9.4-.9 1-2.4.9-3.3 0v1.1c-.4-.1-.6-.7-1-.6-.7.1-1.6.4-2.4.4.5.5 1.5.7 2.2.5.6-.2 1.5-.3 2.2.3-1.3 0-2.2.2-2.9.4-.7.2-1.5-.2-2.1 0v.9c-.2-.3-.6-1-1-.5.6.9-.6.7-.6.7-1.4.1-3.2-.1-4.6.3.2.3.9.3 1.3.5-2.9.3-5.6.4-8.3 1 .1 0-.1.7-.4-.1-.9-.1-2.2.2-3.2.2-.3 0-.4-.6-.5-.7-.5-.2-2-.2-2.8-.2l1.5-.4c-1.4-.1-2.5.1-3.6.2l1 .5c-6.5-1-13.8-.8-20.5-.6h-.9zM174.4 5.5c-.5 0-1.8-.1-2.3-.2 1.4-.4 2.9-.9 4.7-.9-.8-.2-2.3-.1-3.7-.1 1.6-.8 3.2-.3 4.4-1 .3-.2.7-.9 1.3-.9 1.5 0 3.3.5 4.3.7-.2.6-.7.8-1.1 1l-1.4.3c0 .5.4.4.6.3.7-.1 1.4-.4 2.3-.4-.9.8-2.1.7-3.1.9-1.8.2-3.5.3-5.2.5l-.8-.2z"/><path d="M143.8 10.6c1.9-.3 4.1-.8 6.3-.4-.5.1-.1.4.1.3.7-.1 1.2-.8 1.6-.8 1.8 0 3.8-.2 5.3.1.4.1.2.8 0 .9h-.7c0 1.1-1.5.8-2.2.9h-4.5c-.2-.5.2-.4.4-.5.3-.1.7-.2.9-.5-1.9.3-3.7.6-5.6.8h-1.1l-.5-.8zM23.4 23l-.4-.5c-.5-.1-1.2.3-1.6.1-.6-.2-1-.9-.7-1.5.2-.5 1-.7 1.4-.7l3.7-.4c-1.4.5-2.8 1-4.3 1.2 1.1.1 2.7 0 3.4-.3.5-.2 1.4-.2 1.8.2-.7.2-1.5-.1-1.8.7.7 0 1.7-.1 2.2.2-1.3.3-2.6.5-3.7 1zM105.7 13.9c.2-.6 2.6-.3 3.4-.4.3 0 1.1.2 1.4.2 0 .4-.4.6-.7.6-1.2.1-2.4.1-3.5-.2l-.6-.2zM47.8 18.7c-.2.1-.4-.2 0-.4 1.5-.7 3-1.3 5-.6-.3.2-1.2.1-1.9.4.4.6-1.1.4-1.7.4-.2-.1-1 0-1.4.2zM85.2 14.3c-1.5.1 1.9-.3 2.6 0 .4.1.9.3 1.1.6-1.1.2-2.9.5-4.1 0 .3-.3.4-.4.4-.6zM151.4 12.3c-.7 0 .9-.3 1.2-.3h3.5c-1.3.5-3.1.2-4.7.3zM23.4 23c-.9.6-2.2.5-3.5.9.3-.8 1.5-.7 2.2-.9h1.3zM39 21.8c-.3-.4.1-.5.2-.5.7.2 1.1.2 1.6.3 0 .4-.4.2-.7.2v.7c-.5-.2-.8-.3-1.1-.7zM94.3 14.5c1-.2 2.2-.2 3 .2-1 .2-2.2.3-3-.2zM32.1 20.8c1.2-.3 2.8-.3 4.1-.5-1.5-.2-2.8 0-4.2.2-.2.1-.3.4.1.3zM38.2 19.2c.3 0 .5.2.6.2.8-.1 2-.2 2.8-.5-.5 0-1.4.1-1.8 0-.4-.1-2.7.4-1.6.3zM28.9 22.2h-1.4c.3-.7 1.6-.4 2.5-.4-.2.4-.7.4-1.1.4zM16.8 21.5c.5-.3 1.4-.4 2.2-.3-.4.2-1.2.7-1.8.7l-.4-.4zM121.5 17.5c-1.2-.2 1.7-.1 2.4-.1-.7.3-2 .1-2.4.1zM42.7 21.3c-.4.2-.4-.3-.2-.4.6-.3 1.2-.2 1.8-.2-.3.2-1.1.3-1.6.6zM.2 18.7L0 16.8c.5 0 .7.7.6 1.2-.1.2 0 .7-.4.7zM153.2 9.4c-.2.1-1.1 0-1.5 0 .5-.3 1.5-.4 2.2-.5l-.7.5zM35 16.4V16c-.6 0-1.4.1-1.7.4H35zM28.6 19.8c-.4.1-.7.2-1 .2.4-.4 1-.3 1.5-.7.7.6-.4.5-.5.5zM9.1 20.7c-.4.2-.7-.3-.2-.4.4-.1.9-.3 1.4-.3-.3.3-.7.5-1.2.7zM34.8 23.2c-.3.1-.5-.3 0-.5.3-.1 1 0 1.4 0-.2.4-.9.3-1.4.5zM30.1 21l-1.1.1c.4-.6 1.2-.5 1.9-.4l-.8.3zM34.6 21.1c-.4.1-.9.1-1.1.5.8-.2 1.7-.1 2.3-.5h-1.2zM104.8 10.8v-.2c-.7 0-1.7-.1-2.2.2h2.2zM100.3 11.7c-.7-.3-1.4-.3-2.2-.3.6.4 1.5.3 2.2.3zM56.3 20h-2c.4-.3 1.3-.2 2-.2v.2zM23.8 18.9l-.2-.4c-.4.4-1.1 0-1.3.4h1.5zM14.4 20.6l-.6.1c.3-.4.9-.6 1.5-.4-.1.3-.7.2-.9.3zM3.3 14.6c-.2 0-.7.2-.6-.2.1-.6.5-.6.6 0v.2zM29.6 24.2c-.3.2-.9-.2-.2-.4h.9c.1.4-.4.2-.7.4z"/></svg>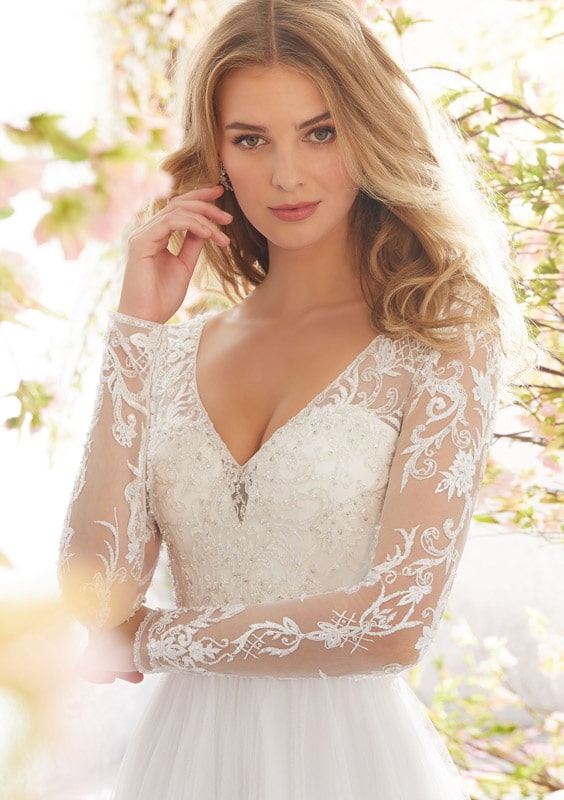 VOYAGÉ COLLECTION BY Morilee
On the most special day of your life, we want you to be relaxed and having fun, letting your heart be free. This is the spirit we've embroidered into the slim silhouettes of our Wedding Dress Voyage® collection. We keep a more relaxed look in mind in each piece, using fine, light materials such as chiffon and organza for graceful movement and comfort. Ideal for destination or other less formal weddings, they are the epitome of delicacy and beauty.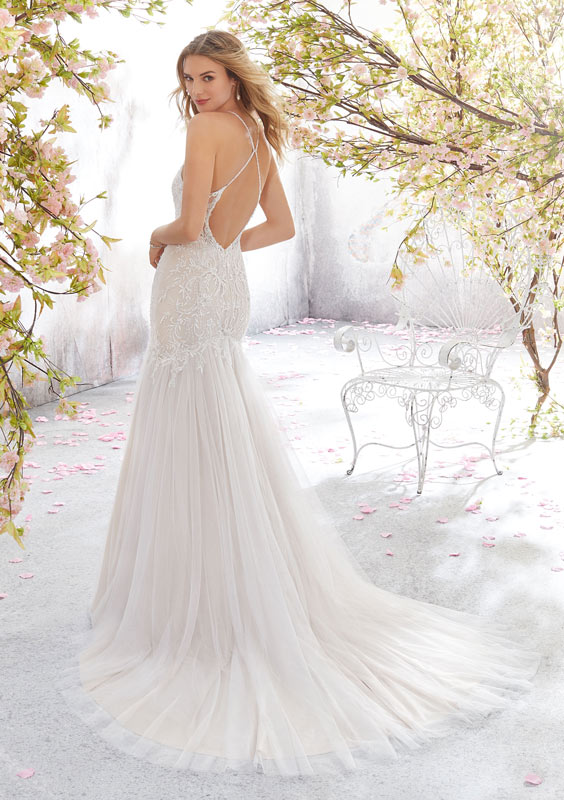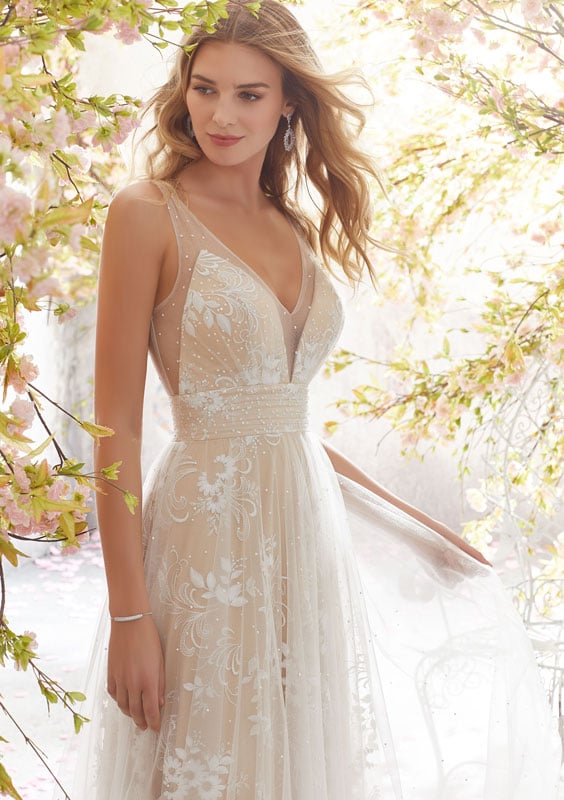 Visit Voyagé Collection by Morilee website
Want to discuss your wedding?